Remote Control OT Tables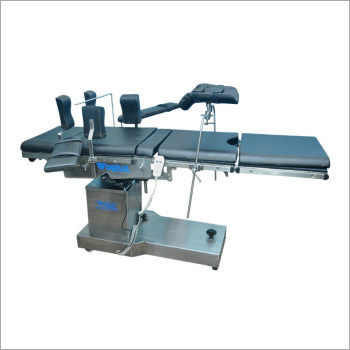 Remote Control OT Tables
The Remote Control OT Tables are designed to support different surgical procedures. These tables are of immaculate quality and are available with features and mechanisms such as lateral tilt, Trendelenburg/ reverse Trendelenburg. You can also adjust the chair position and height. The Remote Control OT Tables has a large translucent top, for C-arm use. Further, they are specialized for all surgical procedures. It has functions like flex-reflex, chair position, height adjustment by remote control and detachable head and leg sections. They are also known for their hard, robust stainless steel shell which helps to keep them dirt free & easy sanitize operations.
Operations Supported:
Gynecology, Urology, Gastro-Enterology, Cardiothoracic, Neurology.
Optional:
Ortho attachment, Neuro attachment.
Specification:
Top Dimension: L 1830 x W 497 mm Height Adjustment: 750 mm – 1000 mm Trendelenburg / Reverse: 30° / 25° Lateral Tilt: 20° / 20° Kidney Elevator: 150 mm Back Rest (up / down): 80° / 25° Leg Rest (up / down): 15° / 90° Head Rest (up / down): 20° / 60° Patient Weight Capacity: 150 kgs
"We are accepting inquiries from the local areas of South India."